There are no more items in your cart
Shipping

Free

Total

€0.00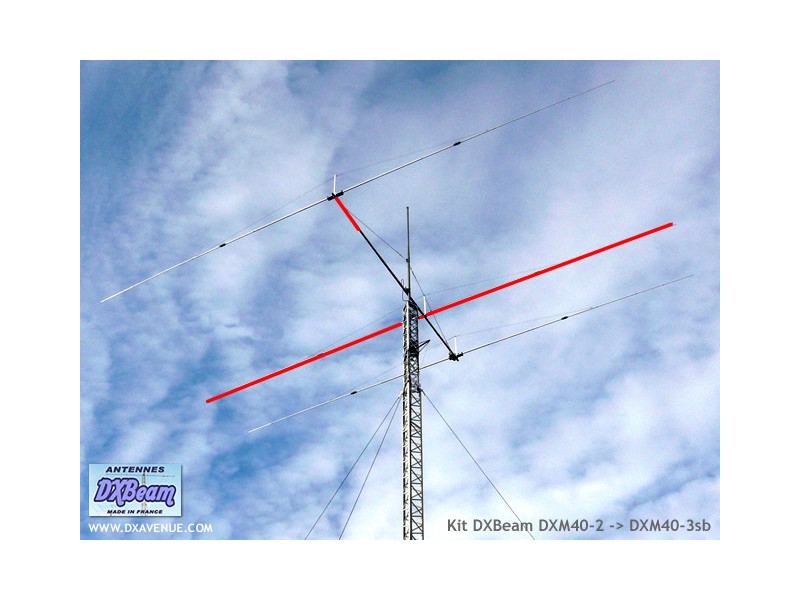  
Kit DXM40-3sb for DXM40-2
Kit for converting a DXBeam 2 el. 40m Yagi (7 MHz) to a DXBeam 3 el. 40m short-boom   (Ref. DXK40-2TO40-3SB)
Ratings and comments from our customers
This kit is converting a DXBeam 2 el. 40m Yagi (DXM40-2) to a DXBeam 3 el. 40m short-boom (DXM40-3sb).
Specifications

• Increase the boom length of the original DXM40-2 antenna by 1 m (6.50 m instead of 5.50 m) and add a third element
• Truly transforms the 2 element 40 m Yagi to a 3 element DXM40-3sb
• Identical material to the original DXM40-3sb.
Kit contents

• Third element 40m complete with its stem and self-guying
• 1 m of boom and adapter sleeve to be fitted in the old boom (reflector side)
• Guying of the new boom (insulated cable and stainless steel rings, tensioners and cable ties).
To order this kit, simply select the option when requesting DXBeam antenna quote.

40 meter 2 element beam Yagi (7 MHz) DXBeam  (Ref. DXM40-2)
40 meter 3 element beam Yagi (7 MHz) short boom DXBeam  (Ref. DXM40-3sb)
3 other products in the same category:
12m extension (24 MHz) for converting a DXBeam 6 el. 20/15/10 m Moxon/Yagi (14-21-28 MHz) to a DXBeam 8 el. 20/15/12/10 m Moxon/Yagi (14-21-24-28 MHz)   (Ref. DXK12-8)
12m extension (18 MHz) for converting a DXBeam 8 el. 20/15/12/10 m Moxon/Yagi (14-21-24-28 MHz) to a DXBeam 10 el. 20/15/17/12/10 m Moxon/Yagi (14-18-21-24-28 MHz)   (Ref. DXK17-10)
Kit for converting a DXBeam 3 el. 40m (7 MHz) long-boom Yagi to a DXBeam 4 el. 40m   (Ref. DXK40-3TO40-4)